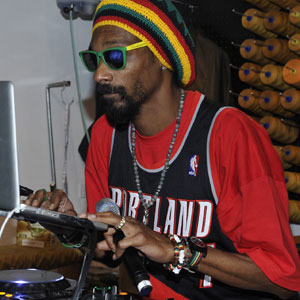 Snoop Dogg  loves his weed. Always has, always will. So, of course, he has to have it even when he's out of the country. However, his love for the tree didn't fare well for him today. After his arrival at Oslo Airport today in Norway, Snoop was briefly held by customs officials after a canine unit sniffed out some weed on him.
Lucky for Snoop, Norway is lax with its marijuana laws, with an amount of up to 15 grams usually considered as personal use and punishable by a maximum fine of 5000 kroner, or $827.
However, according to Norwegian media, in addition to the 8 grams of weed he reportedly had, the rapper also had a large amount of cash exceeding legal limits. That gave him another violation that brought his total fines to 52,000 kroner, or $8,600, which is probably like $20 to him. Customs officers who stopped him told the news outlet that he was courteous and respectful the whole time, and they were not aware of who he was until he showed his ID.
However, Snoop later snapped on a reporter at local news outlet VGTV why he was five hours late to the Hove Festival, where he's set to perform as a headliner.  "Man, shut the f–k up. I'm here…be happy I'm here and ask some real questions."  The reporter continued to pry, asking why Snoop was stopped earlier today, with him replying: "I was late 'cause I went to go get some chicken wings…'cause I wanted to see Norway up close and personal, and visit an old folks' home. I went to visit a convalescent home. That's why I was late." He ended the interview saying: "I don't party…get this mothaf–ka outta here."
I would say I'm shocked. But I'm definitely not. Snoop's been smoking probably since before he even started rapping. Every once in a while, he's bound to get caught with a little something in his pockets. As long as he has money, I guess he has no problem paying fees as long as he can smoke his blunt.
Image via Levi's